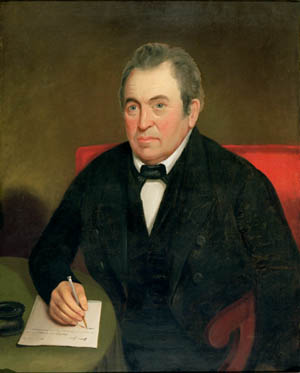 Over the years Case Western Reserve University's benefactors have donated funds to establish endowments for many purposes – scholarships, research, buildings maintenance, and professorships. Typically, the donated funds are invested and only the income is used to support the endowment's purpose. These gifts, thus, have a lasting impact on the university. The income from endowed professorships, also called endowed chairs, supports part or all of the salary of the incumbent and, sometimes, expenses related to his or her research.
CWRU's oldest surviving endowed chair, the Oviatt Professorship was established in 1837, only 11 years after Western Reserve College's founding. Heman Oviatt, a Western Reserve College trustee, donated land valued at $10,000 to endow the professorship in the theology department. Heman Oviatt was born in Goshen, Connecticut in 1775 and was one of the original settlers of Hudson, Ohio, Western Reserve College's original home. Oviatt was a successful merchant and, in 1837 was elected the first mayor of Hudson. Oviatt died in 1854.
Originally named the Oviatt Professorship of Sacred Rhetoric, in 1853 the name was changed to the Oviatt Professorship of Rhetoric. In 1906 the name was changed to the Oviatt Professorship of English.
Oviatt Professors and the dates they held the chair are:
Henry Noble Day, 1840-1857
Carroll Cutler, 1865-1876
Daniel F. DeWolf, 1876-1880
Edwards P. Cleaveland, 1882-1895
Oliver Farrar Emerson, 1896-1927
Finley Melville Foster, 1928-1953
William Powell Jones, 1954-1967
Robert Ornstein, 1974-1988
Roger B. Salomon, 1990-1999
Gary Lee Stonum, 1999-2013
William Siebenschuh, 2014-2018
Kimberly Emmons, 2018-
Posting courtesy of the CWRU Archives.