Letter from the Chair/Department News/1st Gertrude Mann Lecture/Career Path to the Q/Sigma Tau Delta/Catching up with Alums/Congrats to our Graduates//
Letter from the Chair
While the fall and winter invited us into Guilford's parlor and Bellflower's foyer, summer throws open the doors to the world again. The porch is our summer promontory, a threshold between the often-hidden work we do as writers and its visibility to a public. These two theaters are not as unrelated as they might seem to be. One of our majors, Abigail Gilman, testifies that her time in CWRU English has given her "the freedom to explore anything and everything that interests me, both inside and outside the classroom."
We're fortunate that a gift from alumnus Tim O'Brien makes it possible for students like Abigail to explore freely. Abigail is spending her summer interning for Cleveland's 2nd Act, a collective of artists in recovery. Two other undergraduate students, Ailady Saucedo and Mishaal Omer, are working for Waterloo Arts in Collinwood. They'll be running poetry readings and organizing art exhibitions, while also helping the non-profit with marketing and community engagement. Veronica Maciag is honing her writing with an internship at The Cleveland Observer. Meanwhile, Carsten Torgeson is headed to the southwest on a research project that will explore some of the intersections between narrative structure and psychology. Our students bring their curiosity about language and creativity from the classroom to the world and back.
Our faculty and graduate students write for audiences who are eager to understand what role the humanities play in creating knowledge. To support the myriad forms of writing that our department does, we're relaunching our funded MA and PhD programs, led by Professor Maggie Vinter, to welcome students who will write for all audiences, and who will pursue forms of creative writing, public writing, and journalism as their culminating projects. We'll mentor writers in everything from scholarly articles to poems to widely circulating, public-facing essays—such as "The 1880s Political Novel That Could Have Been Written Today," published in The Atlantic by fourth-year PhD candidate Charlie Ericson. Our course offerings will maintain the same strong emphasis in disciplinary training, the bedrock of our faculty research: fall graduate 2023 classes include Professor Kurt Koenigsberger's class on Edwardian Literature and Periodicals and Professor Lindsay Turner's class on The Lyric. It's essential that curiosity not be bound by the whims of fashion or opinion. But as Charlie's piece makes clear, the writing we produce has the power to open a channel between specialists in Henry James and general readers curious about the relationships between art and politics.
The reasons why we think and write are freshly imagined and articulated again and again by those who are doing the work, so I wanted to ask Ryan Pfeiffer, who starts his PhD with us in August, what draws him to studying poetry at CWRU. He responded:
In reading poetry, I am ceaselessly astounded by the way that markings on pages become vibrations in throats, which in turn make meaning in the mind, alerting me to the way that things are. What a beautiful fact that is, and what a striking reminder, every day, of the reality to which I belong.
I'm struck not only by Ryan's astonishment, which I share, but by the route he traces: from the page to the body, from the body to the mind, and from the mind to the world.
–Walt Hunter
Department News
Elysia Balavage will be a Baker-Nord Center Faculty Affiliate for the Fall 2023 semester and will deliver a public presentation on her project, "Class and Consumption: George Orwell and the Desecration of Bread," in October.
On March 29 and 30, Barbara Burgess-Van Aken made a presentation with Elizabeth Click, Director of the CWRU Wellness Program, and Ann Kowal Smith, founder of Reflection Point, at the Art and Science of Health Promotion Conference in Colorado Springs. Their presentation was: "Rethinking the Story: The Narrative Path to Community Well-Being and Intellectual Humility."
Michael Clune has a new piece in Harper's, "The Anatomy of Panic."
Gusztav Demeter presented at the 57th RELC International Conference: Rethinking English Language Teaching and Learning for a COVID-19 Endemic World: Global, Glocal and Local Perspectives in Singapore on Tuesday, March 14. The title of the presentation was "Using Directed Self-Placement to Provide Agency to English Language Learners."
Charlie Ericson has a piece in The Atlantic.
Narcisz Fejes has won the Jackson Award for undergraduate mentoring.
Mary Grimm has a flash in the Lothlorien Poetry Journal.
Walt Hunter had a mini-reading tour in May with Katie Peterson, Chris Spaide, Isabel Galleymore, Roey Leonardi.
Amber Kidd and Hayley Verdi have both been awarded Eva L. Pancoast Memorial Fellowships to travel to work on their dissertations.
Dave Lucas will be teaching at the Oklahoma Summer Arts Institute in June.
Michelle Lyons-McFarland presented her paper "The Sexiest Silver Ever: Vice and Valuation in Defoe's Roxana" at the 2023 American Society for Eighteenth Century Studies annual conference on March 9th.
Benjamin Nestor, a film minor, and Maizy Windham, an English major, had short films featured in the Short. Sweet. Film Fest.'s student filmmaker's program.
Cammy Ring's poem "Catachresis" has been accepted for publication in Colorado Review.
Robin Beth Schaer received a travel grant from the Baker-Nord Center for the Humanities to support a research trip to Germany for her current project, Blue Fever, a collection of poems that reckons with the relationship between art and atrocity.
University Media Board Correspondents Dinner Award Ceremony: Lily Stuart (English/ International Studies) and Veronica Maciag (English/Computer Science) were the two winners of the Rising Star Award for Case Reserve Review (they are the editors-in-chief).
Lindsay Turner participated in an international workshop for the research project Feminized: New Literary Perspectives on Women's Work at Southern Denmark University in Odense, Denmark.
Thrity Umrigar is a finalist for the Ohioana Book Award in Fiction for her novel Honor.
Maggie Vinter's "Who's There: Hearing Character in Hamlet" has been published in ELH.
First Gertrude Mann Memorial Lecture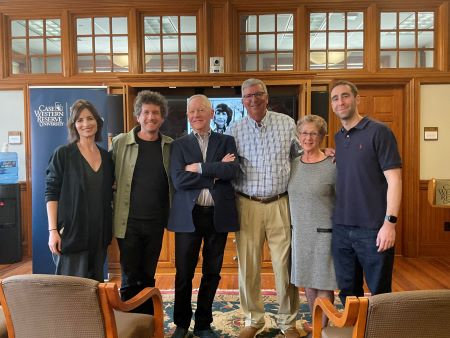 Lindsay Turner, Walt Hunter, Willard Spiegelman, Gary Mann, Harriet Mann, Michael Mann. Friday, April 14th.
Career Path to the Q
by Brennon Ham
The University of Washington's campus is known for impressive gardens and architecture that embroider its topography. Nestled in its heart is the Husky Union Building (HUB), home to so many of the Student Life organizations that make up the UW Husky student experience. On the HUB's third floor, just across from the elevator, stands a frosted trio of windows, gatekeepers to the Q.
The Q is what staff call the Q Center when talking to folks who know about it. One of the first in the country, the Q Center has been a Student Life staple at UW for over 20 years. It was born from a movement of trailblazing LGBTQ+ students, staff, faculty, and alumni who wanted more for their community. In addition to the center, this group helped establish protections for queer and trans UW community members that continue to provide so many of us with safety and security to this day. Over two decades, the University of Washington LGBTQ+ community has grown from relying on the Q Center as the only place of refuge and togetherness, to boasting over 10 LGBTQ+ student collectives as well as many staff- and faculty-serving associations. It's the next 20 years that I get to spearhead.
My name is Brennon Ham and I am the Q's new Director. I started this job at the tail end of February and was immediately catapulted into the storm that is Spring Quarter. Having completed both my bachelors and masters degrees at institutions that still wisely cling to the semester system, I felt like a lake water sailboater cast out to sea. Thanks to the smart, connected, and hardworking staff at the Q, I have found my sealegs. And, upon those legs, I am excited to make some waves of my own.
Because student life is rich with opportunities for peer connection and care, students rely less on the Q to offer these things. However, like every institution, many non-LGBTQ+ faculty and staff here lack the skills and knowledge needed to best support their LGBTQ+ students. We sent out a survey this quarter to better understand the evolving needs. Backed by our data, we endeavor to both morph existing programs to better meet those needs while simultaneously transforming university culture and climate through training, technical assistance, and interventions with staff and faculty. UW's students want faculty and staff who treat them right. And, we are going to show our faculty and staff how to do just that.
My education as well as my personal and professional experiences offered me the coordinates to build the skills and frameworks I needed for this job. I'm a proud graduate of Case Western Reserve University's English Department and Harvard Graduate School of Education's Education Policy & Management Program. I am a queer, non-binary trans mixed-race, formerly homeless, survivor of violence. I have spent my adult life working jobs located in Education, Social Services, and Public Health. It is all of these things together that charted my path to my new role. Some of the tough stuff I went through happened in and around college. But, when I trace my story to the roots of what got me through, I locate the root caps in Guilford House and CWRU's LGBT Center.
The unusual circumstances that shrouded my freshman and sophomore years left me unsteady.It was in Guilford House that my soul was tended to. During this time, I dipped my toes into Fiction Writing with Thrity Umrigar and Poetry with Sarah Gridley. Until then, I hadn't truly felt valued as a student. But Sarah and Thrity both celebrated me, pushed me, and helped me become better in all the ways I wanted. Their lessons taught me perspective; there is power in calling an ugly thing ugly, but there is also beauty and possibility in even the most frightening circumstance. I use these lessons every day as I evaluate the state of our country's hateful ugliness and, in spite of it, direct positivity into the work I get to do at the Q.
Junior year, at the end of Spring semester, I got a call from Liz Roccoforte while I was sitting on the Guilford porch. Liz offered me the chance to interview for a job that would change my life. I became the first student employee for the LGBT Center at CWRU. There, Liz taught me skills in community organizing, public speaking, group facilitation, and broader strategic planning. These skills have served me well beyond my time at Case while also giving me a chance to test them out while I was a student. I got to be a guest speaker in classrooms and evening programs, I sat on decision-making committees for student life, and I convened groups of young LGBTQ+ students across Case's campus. Now I get the chance to direct the same types of programs in Seattle, WA.
Proud. Grateful. Connected. That is how I talk about my time at CWRU. I made my best friends, I built champion-level skills for the working world, and I gained perspective for how to live my life – queerly, fully, and with beauty.
Sigma Tau Delta
Here is the link to the June newsletter.
Catching Up with Alums
Alum ('91) Will Allison's second novel, the New York Times bestseller Long Drive Home, is being adapted for the stage by playwright Stephen Kaplan, with an initial public reading at the cell theatre in New York City.
Gerry Canavan ('02) just got promoted to full professor and is now the chair of the Department of English at Marquette. He had an edited book come out that got some notice, Uneven Futures: Strategies for Community Survival from Speculative Fiction.
Erin Clair ('99) has accepted a position as associate dean of undergraduate programs for the College of Professional Studies at Northeastern University in Boston.
Jasmine Gallup ('17) writes: "I graduated Case Western Reserve University in 2017 and eventually went on to become a news reporter in my hometown of Raleigh, North Carolina. I currently work for a publication called INDY Week and I love my job. I work from home (so I have flexible hours), I have great coworkers and supervisors, and I feel like I'm doing important work that serves the community. Since becoming a full-time reporter, I've won several awards from local organizations including the N.C. Press Association and the Society of Professional Journalists. As an English major at Case, I was really worried about my career prospects at one point. But I'm here to say that not only was my experience in the English Department fantastic (I got to indulge my passion for reading and writing), but my degree is also valuable out here in the real world. Journalism as an industry is in a bit of a crisis at the moment, but there are still a lot of job opportunities out there for people who want to write for a living. Online news outlets are booming and some people have even started their own businesses through blogs about travel, food, etc. In addition to my job at a traditional print newspaper, I've done freelance work for national magazines and online publications (some of which pay very well). If I ever want to move on to something else (or, to be blunt, am laid off), my skills and work experience qualify me for jobs at publishing houses or in PR."
Kathleen McKinley Harris ('64), author of the chapbook, Earth Striders, Finishing Line Press, is a graduate of Middlebury College with a master's in English from Case Western Reserve University. She attended Bread Loaf Writers' Conference and Vermont Studio Center. William Morrow, Jr. published her picture book, The Wonderful Hay Tumble, in 1988. Her poem, "Bear Fear," won the 1999 Ralph Nading Hill, Jr. Literary Award. Her poems have been published in Vermont Ink, Snowy Egret, Potato Eyes, Willard & Maple VIII, The Society of Children's Book Writers and Illustrators' Bulletin, PSOV The Mountain Troubadour, Vermont Life, Blueline, Avocet, PoemCity. Her poem, "Cat from the Animal Shelter," appeared in June Cotner's anthology, Animal Blessings (Harper, 2000). She writes historical articles. She taught kindergarten at Pierpont, Ohio; high school English and history at Morrisville's Peoples Academy and Hyde Park's Lamoille Union, Vermont; fiction and poetry at the University of Illinois, Urbana, and co-published and edited a twice-monthly newspaper, The Champlain Courier, covering Charlotte, Ferrisburgh, and Vergennes, Vermont. The newspaper's reportage was key in preserving two large acreage lakefront properties from commercial development. Following her picture book publication, she spoke in 44 Vermont schools and libraries. She worked in a bookstore. She is the editor of Craig Burt's memoirs, We Lived in Stowe (2003). An essay, "Early Morning Walks," (2015) is in Open Doors: Stories from Wildlife Nation. She was the editor of the Chittenden County Historical Society Bulletin, a quarterly, and copy editor of Vermont Farm Bureau's quarterly, Vermont Fences. Memberships include SCBWI, League of Vt. Writers, Poetry Society of Vermont, Vermont Historical Society, Chittenden County Historical Society, Charlotte Historical Society, and Vermont Farm Bureau. She published her chapbook, Earth Striders, in 2017 with Finishing Line Press; the focus is on horses and Vermont. Her first published poem appeared in Snowy Egret, (Spring, 1997). Guided by her grandfather, an orchardist, and mother, a birder, and her father, a hiker and skier, her interest in nature, gardening, horses, theatre, skiing and hiking is life-long.
Paul Hay ('10) is currently a Visiting Assistant Professor in the Department of Classics at Hampden-Sydney College in Virginia. His first monograph, Saeculum: Defining Historical Eras in Ancient Roman Thought [https://utpress.utexas.edu/9781477327395/], will be published by University of Texas Press this summer.
Ray Horton ('17) has been promoted to Associate Professor at Murray State University. His tenure was confirmed as well.
Amy Kesegich ('01) has been promoted to full professor and is head of the English department at Notre Dame College.
Francesca Mancino ('22) has accepted an offer at Fordham in their English PhD program.
Lisa Maurca ('97) , Associate Professor of English at Wayne State University and Editor of Criticism, has had a number of publications recently:
The Afterword for Print Culture, Agency, and Regional Identity in the Hand Press Period. Eds. Rachel Stenner, Kaley Kramer, and Adam James Smith. London, Palgrave Macmillan: 2022.
"Mediating the Student Body: Labor, Literacy, and Experiential Learning in the Book History Classroom," Teaching the History of the Book. Eds. Emily Todd and Matteo Pangallo. University of Massachusetts Press: 2023.
""Vive La Plume!": The Pleasures and Problems of Handwriting Pedagogy in the Long Eighteenth Century," A History of the Futures of Handwriting in Early America. Ed. Mark Alan Mattes. University of Massachusetts Press: 2023 (forthcoming in August).
Co-editor of a special issue on "New Approaches to Critical Bibliography and the Material Text," (with Kate Ozment), Criticism 64: 3-4 (2023)–coming out any day now! There will be a discussion of this next month on Zoom through the Bibliographical Society of America; see here for more details.
She also received the American Society for Eighteenth-Century Studies Innovative Course Design Award for 2021-22. You can see more about that here: https://lmaruca.wordpress.com/mediating-the-global…/
Jeff Morgan ('99) says, "My life as an English student (BA @ OU, MA @ Pan Am, and PhD @ Case) has been a dream. I fell in love, had a family, and am a happy homeowner, but you want to learn about English-related matters, specifically post Case, which prepared me well. After earning my doctorate, I began teaching at Lynn University and worked my way up to a full professor. I will retire next year after 25 years. I was a department chair for several years and earned faculty member of the year once. I have four books under my name, the most recent out only a few moths ago and called The (Un)Welcome Stranger. I have had published numerous essays and too many poems to count. I have held editorial positions and been a keynote speaker at a conference. I have presented at many conferences, most notably ones at Oxford and the Sorbonne, the latter happening this June. It has been dreamy, and I intend to continue the dream, focusing on family and home, writing creatively, and getting back into music. Yes, that's me on p. 114 of 2021's Where the Wild Gigs Were, performing in Athens, Ohio. I shall also dive deeper into my latest artistic expression, acting. So far, I've done nine shows over the past six seasons. Does this look like an interesting life to you? English studies @ Case helped make it my reality, and your dreams can come true, too. Best wishes to you!"
Danielle Nielsen ('11) has been promoted to Full Professor at Murray State University. She published:
"Celebrity Memes, Audioshop, and Participatory Fan Culture: A Case Study on Keanu Reeves" with Diane Sabenacio Nititham. Celebrity Studies. 13. 2 (2022): 159-170. https://doi.org/10.1080/19392397.2022.2063397
Temi Omilabu ('17) says: "I graduated with a B.A. in English and minor in Political Science. After graduation, I was a Global Health Corps Fellow for one year. After my fellowship ended, I attended Boston University School of Law, where I earned my J.D. in May 2021. I did a one-year postgraduate fellowship at Yale University, and I am now an Associate Attorney at the global law firm Quinn Emanuel. My practice focuses on internal and government investigations, and complex commercial litigation. Being a lawyer is much like being a storyteller: I enjoy being able to craft compelling narratives on behalf of my clients and present those narratives to the judge or the government, depending on the case. I am based in New York City."
Brandi Schillace ('10) says: "Nothing 'new' new… You probably know about the twice monthly show, Peculiar Book Club (we just did a live thing with Ed Yong). There's Intermediaries, the book coming out on transgender history and trans rights (not till 2024, but I wrote about it for Sci Am, and was in Washington Post talking smack at Margerie Taylor Green. As one does. And on NPR about it too for All Things Considered), and the first novel in my mystery series with Harper Collins appears this winter (The Framed Women of Ardemore House). I'm a book reviewer for Wall Street Journal, and I still run the journal for BMJ, and just got back from giving a keynote in Sweden. Oh, and I'll have a series coming out with Audible soon (medical history stuff) and I'm working on a 12-part tv series with Wondrium (filming next Feb). https://brandyschillace.com/"
Michelle Smith ('98) participated in the panel "Want to learn more about self-publishing?" with John Burroughs and Juliet Cook at CCPL-South Euclid-Lyndhurst Branch in April.
Alum ('88) John Vourlis's documentary feature film The House Next Door has been selected to screen at the 72nd annual Columbus International Film & Animation Festival (www.columbusfilm.org). The film is a feature length documentary about how the foreclosure crisis of 2008 ripped through the Greater Cleveland area, what catastrophic damage was left behind in communities like Slavic Village and East Cleveland, and how dedicated public servants and private citizens are still picking up the pieces and attempting to put them back together.
Allyson Wierenga ('21) is entering her 3rd year as an English PhD student at Texas A&M University. Her recent achievements:
She won MAPACA's (the Mid-Atlantic Popular and American Culture Association's) 2022 Daniel Walden Prize for her paper "'How Were You Cured If None of the Others Were?': Transcending Bodies in The Two Princesses of Bamarre and the COVID-19 Pandemic" — this is awarded to an outstanding emerging undergraduate and graduate scholar in the field of popular culture. Her paper will be published in MAPACA's journal, Response. (Award details found here)
She also has a forthcoming book chapter ("A New 'Normal': Cancer and Childhood in Rob Harrell's Wink" in Heartaches and Nightmares: The Death of American Childhood)
Congratulations to Our Graduates!!
Pictured from left to right: Leah Davydov, Kurt Koenigsberger, Kim Emmons, Ryan Pfeiffer, Anthony Raffin. Katie Manwell not pictured.
Send Me Your News
If you have news you would like to share in a future newsletter, please send it to managing editor Susan Grimm (sxd290@case.edu). If you wish to be added to our mailing list, just let us know. The department also has a Facebook page on which more than five hundred of your classmates and profs are already sharing their news. Become a member of the community and post your own news. We want to know. The department will be posting here regularly too—news of colloquiums, readings, etc. We tweet @CWRUEnglish. We are cwruenglish on Instagram.