//Letter from the chair/Welcome back party/Bob Wallace book/Department news/Cleveland Humanities Collective/Alumni news/Conversation with Sangeeta Ray//
Letter from the Chair
When second-year English major Molly McLaughlin stepped to the front of the room at Waterloo Arts in Collinwood, she didn't know she'd be reciting her villanelle to an audience that included Michelle Smith, CWRU English BA (1998) and MA (2000), programming director at Literary Cleveland. The evening's reading had been organized by Mishaal Omer, third-year English major and pre-medical student, who had just completed a summer internship at the gallery. The villanelle, one of the most tortuous forms of poetry to compose, cycles its lines through each stanza, providing a ready-made allegory for the ties between past and present. Molly's poem nodded to the poets she'd read in her workshops and literature classes, but the lines also summoned, as they were spoken, a new network of CWRU English majors past, present, and future.
Following a line from the past, as the villanelle encourages us to do, can be a good way to see into the future. In my first year as chair, I wanted to make that line a bold one—both to emphasize continuity and to make visible the work that we are doing to build on our legacies. Our new Shirley Wormser Chair of Journalism and Media Writing will be Ben Mauk, who begins on July 1, 2024. This year, he's an NEH Public Scholar—and, in breaking news, the recipient of the first Peabody Award that a writer for The New Yorker has ever earned. His much-anticipated book, The Fugitive World, is forthcoming from Farrar, Straus and Giroux.
Ben, whose international reporting emerges from a strong interest in local communities, joins a department equipped with the will and intellect to reach all corners of campus. We're seeing particular interest in our 200-level courses, with topics from "Reading Poetry" to "Science Fiction." Our fall English classes, like Brie Parkin's "Literature to 1800," Kim Emmons' "Rhetoric of Science and Medicine," and Michael Clune's "American Literature," are all at high enrollment numbers. We offer students opportunities that they cannot find elsewhere: the famous Bits Press—founded in 1974 by Robert Wallace, with chapbooks by John Updike and Mary Oliver among its folios—will be reopened this fall, the year of its 50th anniversary, under the new editorial leadership of undergraduate Tychicus McClendon.
Some of the most important work we do often occurs without a particular future or path forward. That wayward freedom of the mind, the ambition that thrives first in a daring solitude, has its eloquent expression in this statement by Camila Ring, one of our current doctoral students:
I have this post-it on my desk with the unremarkable little imperative "make it interesting," and I think it kind of sums up my development as a PhD student here in two ways: one has to do with my committee, who really encouraged me to own and be ambitious about my research interests when I assumed they interested no one but me (things like Hopkins' Catholic orthodoxy or Dickinson's biblical literacy); and the other, an outworking of that support and of the rigor of this program, has to do with my growth as a critic—namely, my ongoing discovery that criticism can be creative, have stylistic intrigue, take on a shape (or inscape) or form of thought that can become as interesting as a poem itself.
I was struck by Cammy's words and by their uncanny echo of Seamus Heaney, who defends the writer's task as a "deeply felt inner need" that goes on and on until it finds "the achievement of a right form of expression." The villanelle, the printing press, the working-out of an argument in prose, the analysis of a frame of film or a scene on stage: these bring us back to the seminar table and to each other for a new year, as interesting as a poem itself.
–Walt Hunter
The Department's Welcome Back Party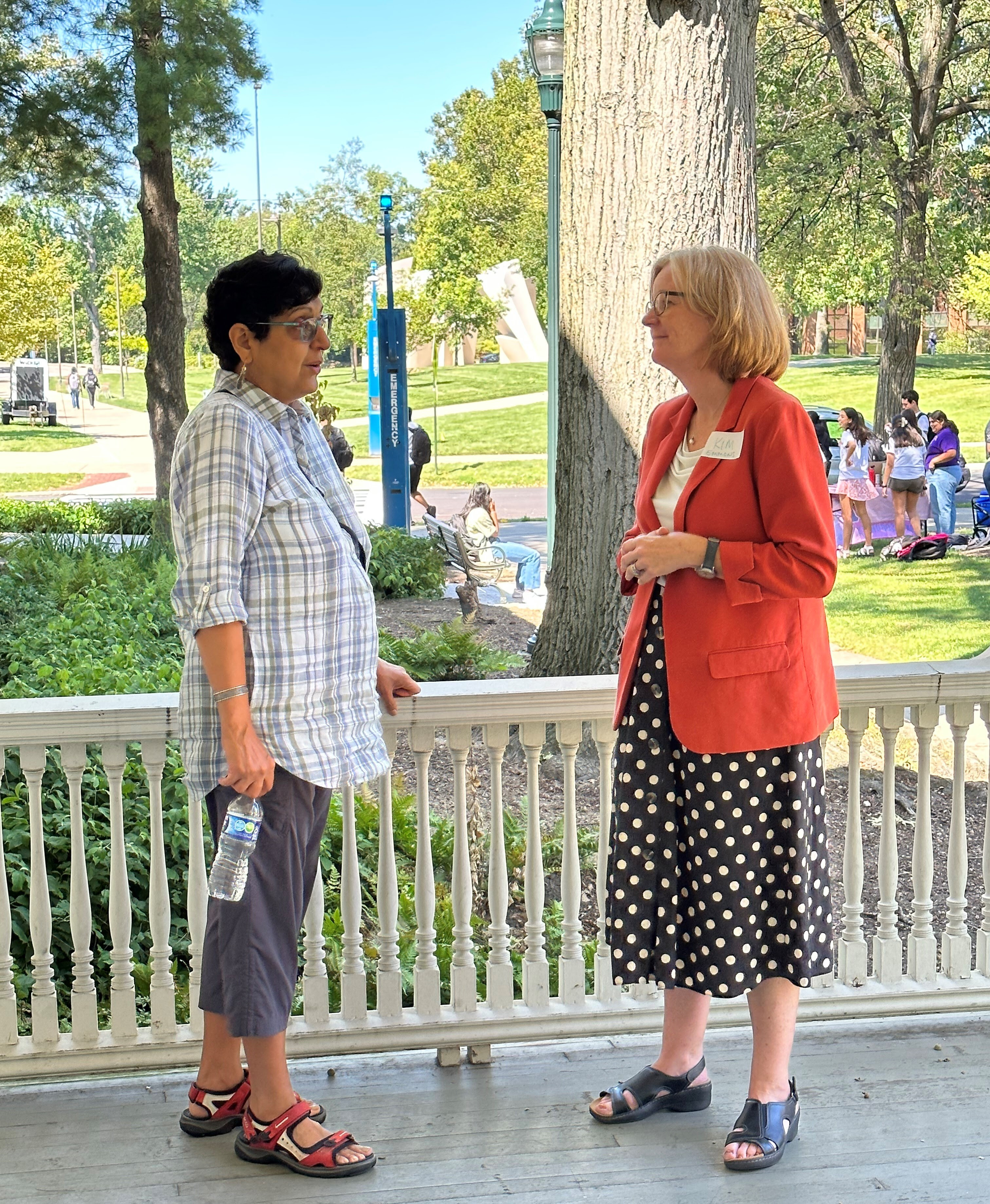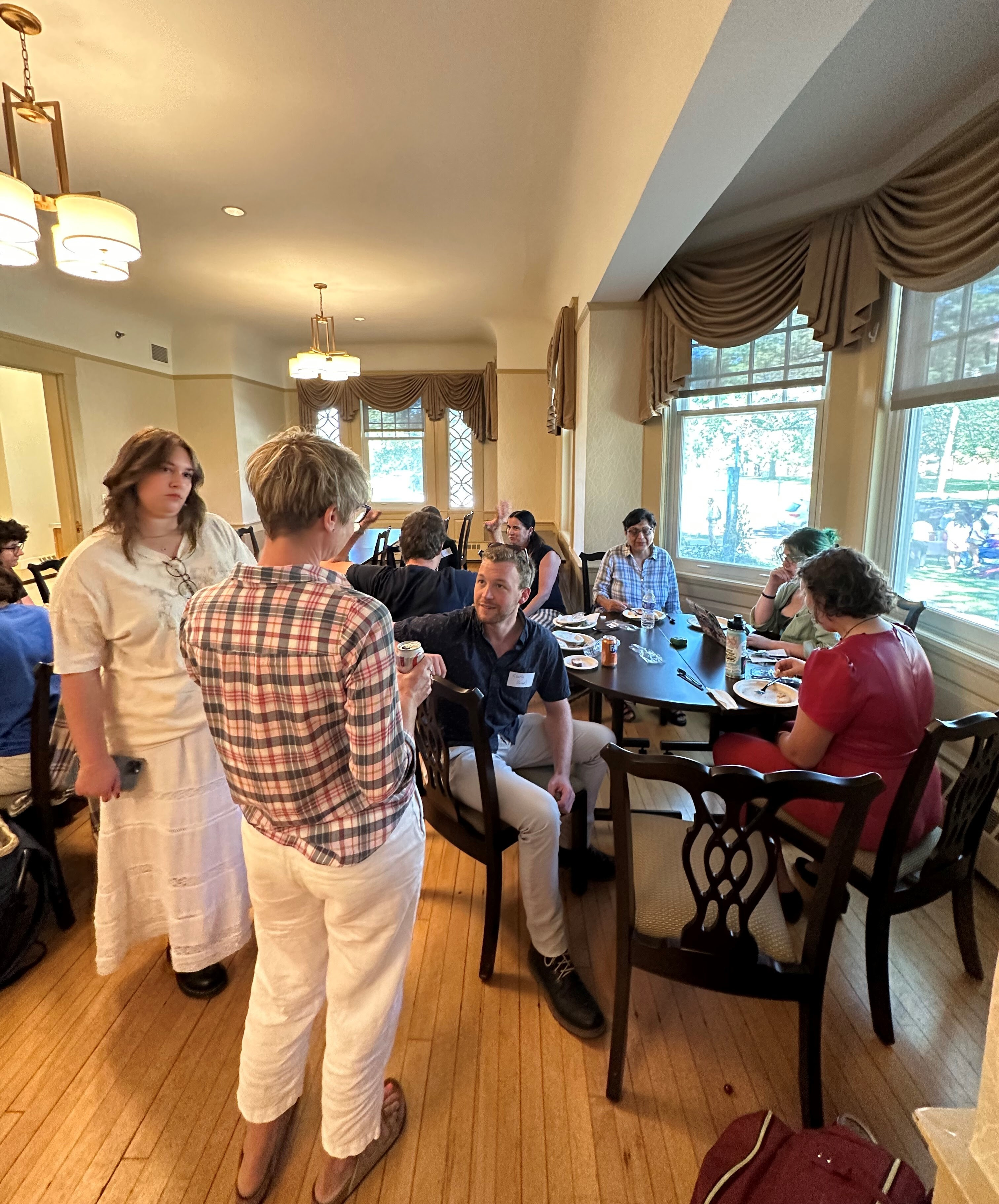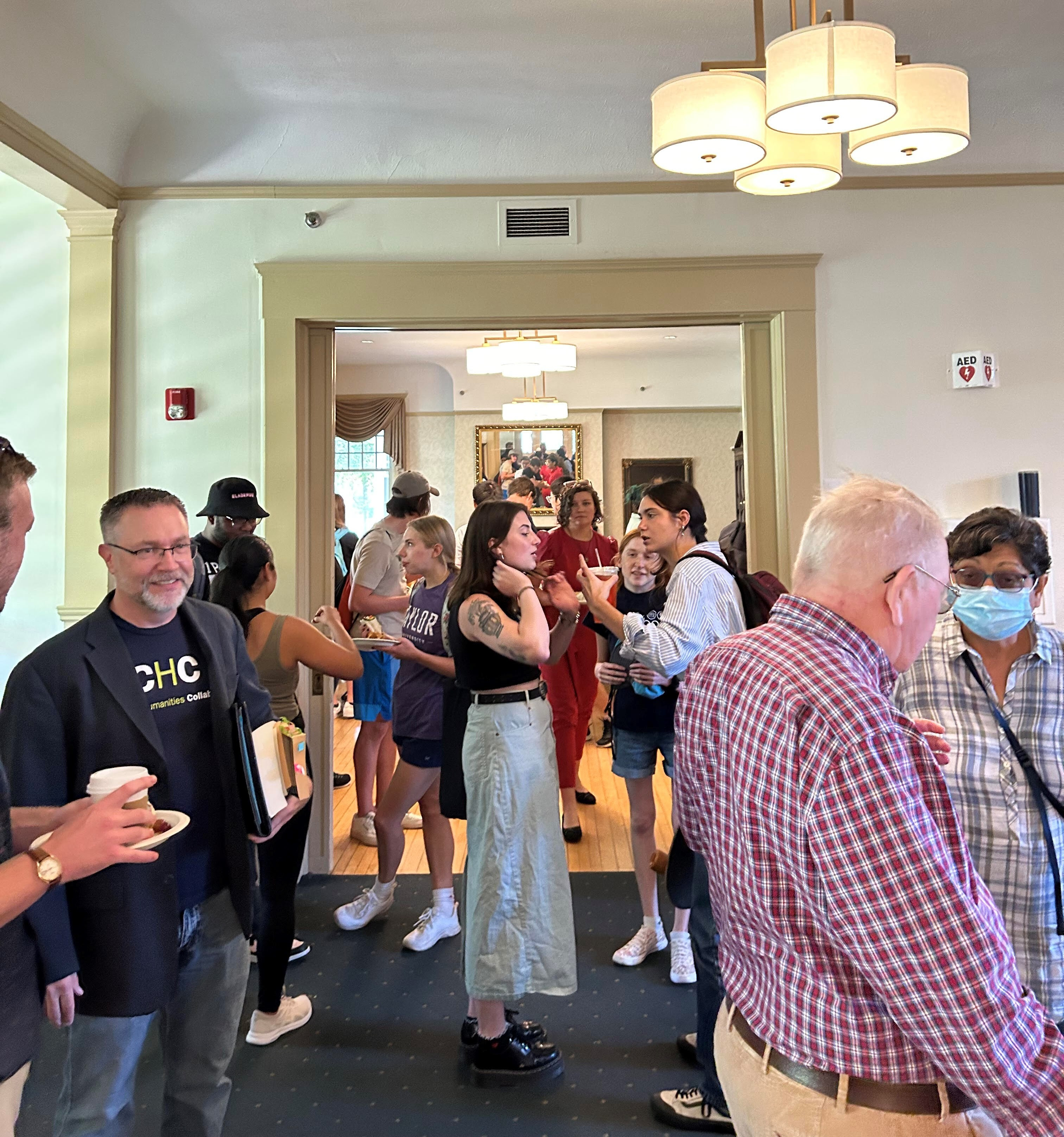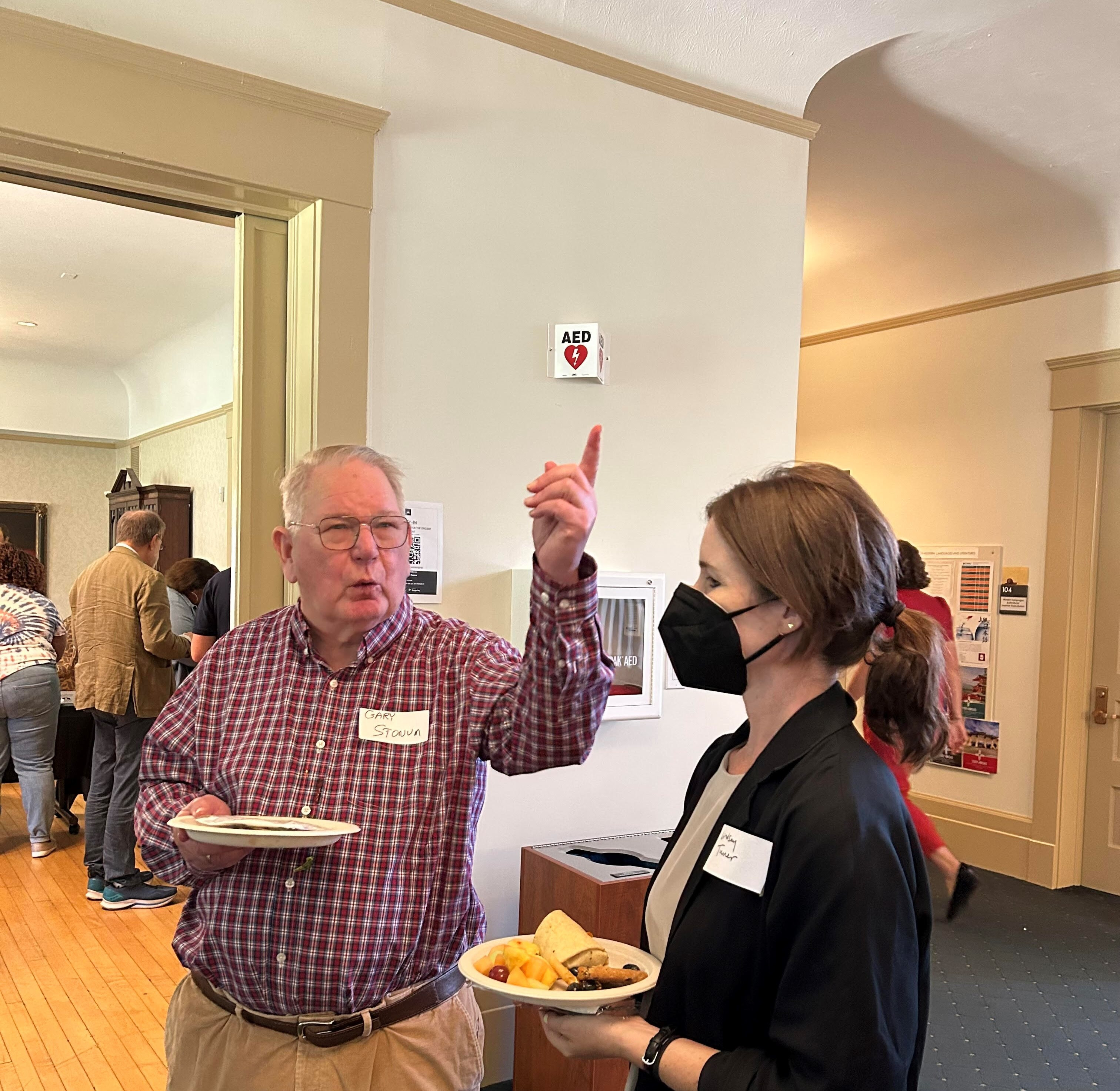 Bob Wallace Book
The Ozarks Book Series at Missouri State announces the publication of The Orbit of Meter: Writings on Poems and Prosody by Robert Wallace. " This volume brings together Wallace's previously unpublished Free Verse and the Orbit of Meter and other writings by and about the poet, publisher, educator. Readers will find Wallace's thoughts on teaching poetry and a compilation of letters pulled from Wallace's archival collection at Missouri State University. The Orbit of Meter opens with an insightful forward by Wallace's widow, Christine Wallace."
Department News
George Blake received a 2023–2024 Freedman Fellowship (from the Freedman Center in KSL) to trace and historicize the ways lead poisoning has been covered by the press in Cleveland (and how digital tools have impacted that coverage). The project is called: "Covering Lead Poisoning in the News: From the Silent Epidemic to Data-Driven Visualization in Cleveland, Ohio."Michael Clune's essay, "What is an Author?" has been published in the 50th anniversary issue of Critical Inquiry.
Vicki Daniel had an article published this past month: "'A Harrowing and Laborious Occupation': Preservation in the 1904 General Slocum Disaster Identifications." Published in the death studies journal Mortality.
Joseph DeLong's visual poems "Titled City" and "Aleatory" and his poems "Here in the Galaxy" and "The Human Year" are out in issue 27 of Redactions.
Mary Grimm's flash, "Don't Look," was published in Roifaineant Press.
In June, Jamie Hickner participated in the National Endowment for the Humanities Summer Institute: "Reading, Writing, and Teaching the Rust Belt: Co-creating Regional Humanities Ecosystems" at Ursuline College.
Walt Hunter's essay on Claudia Jones's poetry, "Radical Black Poetics and South-South Movement," is out in this new book edited by Angela Naimou.
In June Kristine Kelly attended the Digital Humanities Summer Institute where she was enrolled in a week-long seminar on "Critical Making and Scholarship."
William Marling gave a reading from Virginia Woolf's Mrs. Dalloway at the National University of Estonia (Tartu) on June 13th.
Marilyn Mobley is one of twenty women to receive a Flora Award from the Flora Stone Mather Center for Women.
James Newlin co-edited a collection of essays, titled New Psychoanalytic Readings of Shakespeare: Cool Reason and Seething Brains, which will be released soon by Routledge. This volume grew out of a conference that he co-hosted at CWRU in 2020, which was sponsored in part by the English department.
Erika Olbricht's new role is featured in The Daily.
Robert Rowan's article, "Student Self-Diagnostics: Engaging Students as Co-Respondents to Their Own Writing," will be published in the upcoming Fall 2023 issue (9.2) of Journal of Response to Writing.
On Saturday, September 9th, Robin Beth Schaer hosted the launch of Leaning Toward Light: Poems for Gardens and the Hands That Tend Them which featured readings by several local poets and a Q&A with the anthology's editor, Tess Taylor. The event was sponsored by Mac's Backs and the Coventry Library.
Lindsay Turner's book of poems The Upstate will be available in October from the University of Chicago Press.
On Wednesday, October 4 there will be a book launch for Thrity Umrigar's new book: The Museum of Failures.
Cleveland Humanities Collective: Its History and Scope
Students and faculty at the Collaboratory (photo by Ageh Bedell).
For four weeks in May and June, Bellflower Hall's first and second floors were a hive of activity for the inaugural residential "research collaboratory" of the Cleveland Humanities Collaborative (CHC). Panel presentations, seminar discussion, mini-lectures, small-group discussion, individual consultations, and breakout groups – to say nothing of lunch conversations spilling on to the porch of Bellflower – occupied every public space in CWRU's Writers House over the four weeks.The rich exchanges were chiefly among twenty students in their first encounters with Case Western Reserve – adult learners working toward Associate of Arts degrees at Cuyahoga Community College (Tri-C), Lakeland Community College, and Lorain County Community College. The CHC's Collaboratory brought these students together to live and study together on CWRU's campus, with the goal of introducing them to the four-year research environment in the humanities. Their experience culminated in a morning of presentations of individual research topics offered to the Collaboratory, students' family and friends, and administrators from CWRU, Tri-C, Lakeland, and Lorain County.
The Collaboratory represents the most recent innovation of the CHC at CWRU. Established in late 2014 with an initial four-year award (2015-18) from the Mellon Foundation, the CHC initially sought to foster closer working relationships between Tri-C humanities faculty and colleagues at CWRU, and to establish a pathway for high-performing students completing Associate of Arts degrees at Tri-C to transfer to CWRU to work toward BA degrees in the humanities.
The CHC's inaugural phase (2015-17) was led by historian Molly Berger, Associate Dean in the College of Arts and Sciences, with Allison Morgan (CWRU Art History MA) serving as grant Program Manager. Berger's work established essential processes and infrastructure for the CHC, including opening regular channels of communication with Tri-C, the introduction of an annual topical seminar for faculty from Tri-C and CWRU, and ensuring maximal transfer credit was awarded to CHC Scholars.
But the CHC has perhaps been given most definitive shape and direction from faculty and students in English. Mary Grimm served on the Planning and Organizational Committee (POC) for the CHC beginning in 2015, which worked particularly to establish strong working relationships among faculty, administrators, and staff at Tri-C and CWRU alike. By August 2016, the work of the POC had prepared the ground for the first cohort of four students to transfer from Tri-C to CWRU to pursue BA degree programs.
Upon Berger's retirement in June 2017, Kurt Koenigsberger in the Department of English was invited to step into the Directorship of the CHC. In the first year of his leadership, the CHC placed fresh emphasis upon the CHC's "Concurrent Enrollment" program – an expansion of CWRU's existing Cross-Registration agreements with Northeast Ohio colleges and universities – that permits community college students to take courses at CWRU while enrolled full-time at their degree-granting institution. The program also reconfigured its mentoring programs to add cross-institutional peer mentoring, in addition to faculty mentoring of cohorts. Faculty mentors have included Bernie Jim (History/SAGES), Cara Byrne (English/SAGES), Gabrielle Parkin (English), Justine Howe (Religious Studies), and Laura Hengehold (Philosophy).
In 2018, the CHC began its partnership with the Anisfield-Wolf Book Awards as it hosted the first annual weeklong seminar for faculty, staff, graduate students, and community members studying one or more award-winning books, which are devoted to exploring race and human diversity. Since 2018, these seminars have been coordinated (and substantially led) by Music's Lisa Nielson, the inaugural Anisfield-Wolf Fellow at CWRU.
The success of the first four years of collaborations led the Mellon Foundation to invite the CHC for a second round of funding (2019-23), with a significantly expanded set of programs. Perhaps most notably, the two-year partnership model was extended to Lorain County Community College, and to Lakeland Community College. The second phase of the CHC also resulted in innovative programming for graduate students in the humanities. Kim Emmons (English) and Nate Kruse (Music Education) designed a curriculum (Humanities 422) in partnership with Tri-C faculty that introduces graduate students in the humanities to careers in two-year institutions. Those successfully completing HUMN 422 were eligible to apply for a one-on-one mentoring experience with a community college faculty member, as part of the CHC's Mellon Fellows program.
The CHC since 2019 also expanded its granting program to undergraduate students, to support them in research projects and unpaid internship opportunities. Students in English, including Natalie Morgan (BA 2021) and April Graham (BA 2022) have also undertaken meaningful on-campus opportunities, working in the University Library's Special Collections Department cataloging materials from the new Cleveland Playhouse and Karamu House archives. These opportunities were scaffolded by a series of one-credit-hour courses (HUMN 224, 225, and 226), that provided Scholars with tools to extend their understanding of the humanities and its role in the community, its research contributions, and their career pathways. Teaching HUMN courses were faculty such as Kurt Koenigsberger, Gabrielle Parkin, Erika Olbricht, and Arthur Russell from English, and Allison Morgan, David Busch, and Vicki Daniel from the humanities more broadly. Martha Schaffer in English also regularly prepares students new to study in Case Western Reserve classrooms for the writing and seminar expectations.
These years saw an array of challenges that CHC leadership worked hard to overcome, including the accommodation of students who are unhoused during university breaks; food insecurity among students; and physical limitations that make course scheduling in many of the century-old humanities buildings on Mather Quad prohibitive. In response, the CHC spearheaded the creation of a student organization – Alliance of Non-Traditional and Transfer Students (ANTTS) – to support the distinct experiences CHC Students and Scholars have on CWRU's campus, and opened a CHC Emergency Fund, as well as advocating for learning tools and transportation funds to make the CHC experience an equitable one.
Perhaps the most significant challenge to students and the CHC program was the COVID-19 emergency of 2020-21, which limited in-person mentoring and instructional contact, increased financial strain, and challenged the CHC's ability to establish and engage the humanities community. The CHC was, however, able to expand its Anisfield-Wolf Summer Seminars, going fully remote in 2020, and in 2021 expanding the seminar to two weeks and inviting remote participation from CWRU's North Star partners from Historically Black Colleges and Universities (HBCU). In 2022 and 2023, the seminars were co-led by some of these faculty, for whom we were able to provide travel and housing for the duration of the seminar.
In January 2022, Lisa Nielson began work as the CHC's Program Manager. Nielson and Koenigsberger now manage CWRU's CHC operations from the second and third floor of Guilford, while Brian Clites (Religious Studies) now serves as Co-Director.
In 2023, the CHC felt it was prepared to reach an even wider audience with its programs, and so sought out students who might be new to community colleges to introduce them to what living and working in a four-year research-intensive environment might feel like. Initially following the model of the Johns Hopkins University Summer Collaboratory, the CHC invited two talented young scholars –  Amber Kidd (doctoral candidate in English and former CHC Mellon Fellow) and Adrienne Bedell (Music; also a former CHC Mellon Fellow) – to design a rich curriculum introducing students to CWRU, community-based research, best writing and research practices, and University Circle research resources. They were joined by Loron Benton (former HILLS Fellow in Religious Studies) and Amber Ndukwe (doctoral candidate in Sociology) as faculty for the Collaboratory in 2023. Participants lived nearby in the Village at 115 and had a fully residential experience, including access to University and University Circle dining facilities.
As the second phase of the Mellon Foundation's grant funding winds down in late 2023, the working relationships with Tri-C, Lakeland, and Lorain County show signs of new dynamism, and CHC leadership is committed to maintaining the pathway for remarkable students from northeast Ohio to make the transition from two-year institutions to Case Western Reserve. The program has immeasurably enriched not only the lives of these students, but it has also brought considerable intellectual energy to the Department of English, its faculty, and its programs!
To support CHC Scholars via the CHC's Emergency Fund, please visit our page at chc.case.edu and select "Support CHC students."
Alumni News
Kate Rose Allen ('14) has recently joined RQM+ as a Regulatory Affairs Project Manager.
Shelley Costa ('83) has a new mystery out.
Iris Dunkle ('10) has poems featured in the new issue of Volt Literary Magazine.
Miriam Goldman ('11), senior medical device consultant at RQM+, has been promoted to Sr Regulatory Affairs Manager within the Surgical Innovations EU MDR program.
Ray Horton ('17) has been promoted to Associate Professor at Murray State University. His tenure was confirmed as well.
Daniel Luttrull ('20) has a poem in First Things.
Aaron Perine ('16) shares this news: "I got to interview the cast of Spider-Man: Across the Spider-Verse on the red carpet for the film. Names like Brian Tyree Henry, Daiel Kaluuya, and Issa Rae just to name a few!"
On Saturday, September 16th, Nardine Taleb ('20) read at Loganberry Bookstore from her poetry chapbook warda that just came out.
Nadia Tarnawsky ('96) performs with her singing group.
Mary Turzillo ('70) is one of the Guests of Honor at The 45th International Conference for the Fantastic in the Arts. Theme: Whimsy. Orlando Airport Marriott Lakeside. March 13-16, 2024.
Marie Vibbert ('10) is a Hugo Award Finalist for Best Novelette for "We Built This City."
Colloquium Speaker Sangeeta Ray
Sangeeta Ray in conversation with Kurt Koenigsberger. (Friday, September 8th.) 
Send Me Your News

If you have news you would like to share in a future newsletter, please send it to managing editor Susan Grimm (sxd290@case.edu). If you wish to be added to our mailing list, just let us know. The department also has a Facebook page on which more than five hundred of your classmates and profs are already sharing their news. Become a member of the community and post your own news. We want to know. The department will be posting here regularly too—news of colloquiums, readings, etc. We tweet @CWRUEnglish. We are cwruenglish on Instagram.